Peggy Kirk Bell Girls Tour has successfully opened doors for female junior golfers for 15 years
By David Droschak
Emily Brooks recalls her first Peggy Kirk Bell event at Bermuda Run more than a decade ago as a tournament that was played in sloppy, wet conditions as her scores ballooned to well over par. As a middle school student, Brooks admits she was more interested in soccer at the time than her golf scorecard, but an unexpected side benefit hooked her into a sport that has consumed her life since.
Paired that day with Lily Yatawara, the two became – and remain — friends to this day, and Brooks' cell phone contacts are dominated by girls who she played with or against on the Peggy Kirk Bell Girls Tour (PKBGT), a Greensboro-based junior circuit celebrating 15 years of providing opportunity for young girls to play competitive golf on a level playing field.
With her only outlet at the time local club tournaments, Brooks says the Peggy Kirk Bell Girls Tour gave her a golf game a purpose.
"I think if I had a negative experience in that first event who knows where I would be now," Brooks said. "It was just so positive. Getting into tournament golf really made me more serious about golf, which allowed me to play college golf, and to be honest with you now golf is ingrained into every part of my life."
Brooks, who lives in Rhode Island and is the social media lead for golf ball giant Titleist, was part of the early days of the PKBGT, which began with just 61 girls in 2007 and now serves more than 1,000 junior female golfers representing 34 states and Canada. It's not unusual for players from as far away as California to make the trip east to North Carolina to compete on the developmental circuit and be seen by college coaches from the Atlantic Coast Conference and Southeastern Conference.
The PKBGT, along with the Carolinas Golf Association, offers junior female golfers in North Carolina and South Carolina a tremendous opportunity to shine on an affordable stage that won't break the bank of mom and dad. AJGA national events can be costly and time consuming, while the PKBGT average price for a regional level, one-day tournament ranges from $35 to $65, with multi-day events ranging from $149 to $200.
"One thing we're proud of is our pricing is still under where the traditional for-profit tours are," said longtime PKBGT director Mike Parker, who has been along for the ride since the start. "We aim for affordability. It is one of our core statements."
Hand-in-hand with affordability has been opportunity, which is provided on a number of fronts by generous private and sponsor donations, along with grants from such entities as the LPGA and USGA.
In January, the PKBGT was award a $20,000 grant from the LPGA*USGA Girls Golf program, which Parker says goes to help fund an annual PKBGT scholarship and tournament operating expenses, along with underwriting the costs for access when needed.
"Our goal is to not turn away any girl who shows an interest and wants to play in a tournament," Parker said. "It all comes back to our core mission and why the non-profit Triad Youth Golf Foundation, now branded as Girls Golf of America, was started. The goal was to create these opportunities for the girls to pursue golf in whatever direction they choose and to give them a larger platform to compete and be recognized."
Laura Diaz, director of operations for the LPGA Foundation, believes the PKBGT separates itself from other junior golf circuits by emphasizing the importance of the developmental aspect of the game as well as the competitive facet.
"They want to make sure the girls can ease their way into the competitive stage," Diaz said. "Sometimes newer golfers want to start playing tournaments but may get into a tournament that is too strong and get discouraged and not want to come back. But the PKB Tour has the appropriate age and skill levels for all the different girls, which is just great. There is a pathway that they create for all the girls to be able to achieve their competitive level, sort of meeting them where they are skill-wise, which is so very important."
Brooks says she played "too many to remember" PKBGT tournaments before heading to play college golf at Elon, while Yatawara also remained in North Carolina and took her skills to Appalachian State.
"It definitely teaches you grit," Brooks said of the PKBGT. "It's not just a fluffy girls tour where you go and sign up and you get a pink bow, you go play and then go home. It's competitive, and you are playing good set-ups and in tough conditions. It's good preparation for sure."
Parker continues to branch out his PKBGT operation, with more than 130 tournaments in seven different regional series across 10 states.
"It is just constant organic growth outward that we've been able to have, and from our foundation's perspective we've just tried to meet those demands the best we can with the resources we have," said Parker, noting that new states include Kentucky, Ohio, Tennessee, Pennsylvania and New Jersey. "The dream was always there (to grow the tour). It started as a mission to solve a problem of junior girls access to golf — and we were very committed to that — but as we got into it we realized the problem existed in so many places, it wasn't just in the Carolinas.
"The CGA has always done a wonderful job, they were ahead of the curve and still are as far as providing equitable access to girls on the tournament side, and yet we were still able to flourish because there was even more demand there," Parker added. "Now, we're able to take our concept to areas that do not have associations that may be as strong or as focused on the girls side, to be able to come in and advocate for the girls to those organizations and say 'Hey, there is more that can be done. The girls are there. If you provide a product that is geared toward them, and engage them and show them there is a passion for their interest, they will turn out.' That is what our growth has proven over these last 15 years."
Robert Linville, one of the tour's founders and one of the most respected junior golf instructors in the Carolinas – gives much of the credit for the flourishing nature of the PKBGT to Parker, calling him the tour's "driving force."
"He has been relentless on the mission of why we started it and to grow it, and to develop it to give these girls opportunities," Linville said of Parker. "There was a huge need and the girls just getting the opportunity to get somewhat of an equal playing platform to the boys was special to them – and still is to this day."
Brooks notes that the PKBGT doesn't just talk the talk, but walks the walk when it comes to developing and drawing female juniors to the game.
"There is a lot of chatter out there or really good initiatives to grow the game and wanting to get all these girls into the game, but at the end of the day you can introduce the game to as many people as you want but if there is no way to keep the people who are dedicated and really into it, then where are they going to go?," Brooks said. "In the Carolinas, we're so very blessed to have awesome organizations like the CGA and PKBGT to have opportunities. There are a lot of places in the country that don't have that, and the only option for girls is to go play in a tournament where it's a boys tournament with a girls field tacked on to it, or go play an AJGA tournament and spend a lot of money traveling and most people can't afford that. The PKBGT is really a great pipeline in North Carolina."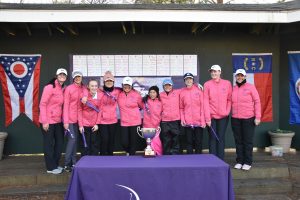 This past January in Southern Pines, the Linville Cup was once again staged to reward the top finishers of the PKBGT with a weekend of team golf and leadership seminars. The event, established in 2018, created additional lasting memories of past and present alumni of the tour.
"Some of the girls who had gone on to professional golf came back to mentor the next generation," Parker said. "So did some who are now in the business world to show the younger players they are still connected to the game. To see that lifelong connection that has been made, whether it was through their college path or otherwise, is a real proud moment, and I'm proud this foundation has been able to provide that kind of access."