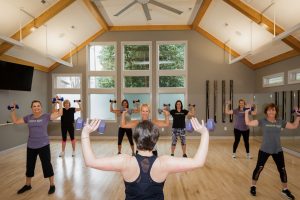 The Fitness and Wellness Center at Champion Hills — one of Western North Carolina's premier golf communities — has been ranked among the Top 50 in the United State by Club+Resort Business, coming in at No. 44 on the inaugural list.
A leading trade publication based in Cleveland, C+RB covers the operations and management staff at country clubs, city clubs, yacht clubs and resorts that operate club-like facilities. Its "Top Ranked" initiative for fitness and wellness highlights properties with the "Top 50 Fitness and Wellness" facilities and programs, as judged independently by a panel of general managers from several top clubs.
"Champion Hills is a lifestyle-focused club that's committed to our members' health and wellness, and we greatly appreciate this recognition from a well-respected publication like Club+Resort Business," says Champion Hills general manager Dana Schultz. "We'll continue to invest in our fitness and wellness facilities, programming and service as a major cornerstone of the club."
Champion Hills' Wellness Center and Pool Complex is located within its stunning, mountain lodge-style clubhouse complex overlooking the peaks of the Blue Ridge Mountains in Hendersonville. Replete with the latest cardio and strength training equipment, it houses a spacious room for yoga, spin, Pilates and other group classes. A hydro spa is also available and popular with members for relaxing their muscles post-workout.
Criteria for inclusion in the Top 50 Fitness and Wellness Center included data on fitness and spa facility size, and the size of retail and/or food-and-beverage facilities related to fitness/wellness; average member usage, equipment value; classes and services offered, and staff size.
Champion Hills is a private boutique club in the heart of the Blue Ridge Mountains 30 minutes from Asheville. Unlike many private, seasonal, mountain communities, Champion Hills offers year-round Tom Fazio-designed golf, activities, and casual and fine dining options. And since 2013, property ownership is no longer a requirement for Champion Hills membership.